Importance of Fire Damage Inspection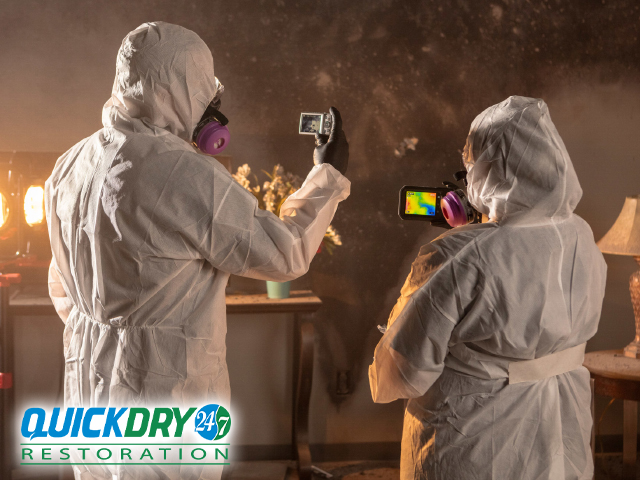 Fire Damage Inspection | Quick Dry 24/7 Restoration, a local company, specializes in fire damage inspection as well as mold, water damage, fire damage repairs and more. Contact us for a free estimate.
Fire Damage Inspection | Expert Service
To help you understand the process, here are a few tips.
Property owners know that fires can cause extensive damage and leave a path of destruction in their wake. They must assess the damage and make restoration plans in the aftermath of a fire. A trained professional can assist with this by performing a comprehensive assessment of the property.
During the inspection, the professional will inspect the property and identify the areas affected by the fire as well as any areas that may have sustained damage from the fire, such as smoke or water damage.
Visual Assessments
The inspector typically starts the inspection by visually assessing the property to identify any visible damage. They will use specialized equipment to check for hidden damage, such as electrical system or moisture damage caused by the fire.
Once the inspection is complete, the inspector will provide a detailed report explaining what actions need to be taken to restore the property. This report is crucial for both the property owner and their insurance company as it provides a clear understanding of the damage's extent and the estimated cost of repairs.
After a fire, prompt restoration efforts are essential, and having a fire damage inspection as soon as possible is imperative. If left unattended for an extended period, the damage may become more costly and extensive to repair.
Potential Safety Hazards
Moreover, a damage inspection can identify any safety hazards that need to be addressed before reoccupying the property, as well as the fire's damage. Examples of such hazards include damaged electrical systems or compromised structural integrity.
Inspections are crucial steps in restoring a property after a fire. Understanding the extent of the damage enables safe and effective property restoration.
Fire Damage Inspection | Trained Professionals
Services:
————————–
Mold Inspection
Mold Removal
Water Damage Inspection
Water Removal
Inspection
Fire Damage Restoration
Emergency Service
FREE Inspection
FREE estimate
Highly Trained Professionals