Mold Removal – Making Informed Decisions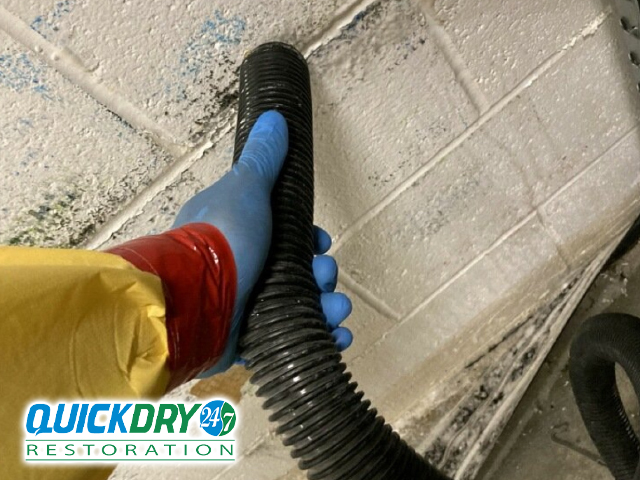 Expert Mold Removal | Quick Dry 24/7 Restoration, a local company, providing expert mold removal, water damage services and much more. Contact us for a free estimate.
Expert Mold Removal | Exceptional Workmanship
Mold removal services are essential for maintaining a safe and healthy living environment. Mold can grow in any damp or humid area, and if left untreated, it can cause significant damage to both the structure of a building and the health of its occupants. Professional mold removal services are crucial in effectively eliminating mold and preventing its recurrence.
Expertise in Identifying the Source
One of the primary reasons to hire mold removal services is their expertise in identifying the source of mold growth. While visible mold is easy to spot, the underlying cause may not be as apparent. Mold removal professionals have the knowledge and tools to identify the root cause, whether it is a leaky pipe, poor ventilation, or a previous water damage issue. By addressing the source, they can ensure that the mold problem is effectively resolved.
Utilizing Specialized Equipment and Techniques
Mold removal services also utilize specialized equipment and techniques to remove mold safely and efficiently. They have access to high-powered vacuums, air scrubbers, and HEPA filters, which are necessary for capturing and removing mold spores from the air. Additionally, professionals use antimicrobial treatments to disinfect and prevent further mold growth.
Health Risk Prevention
Another significant advantage of hiring mold removal services is the prevention of health risks associated with mold exposure. Mold can release spores into the air, which can trigger allergies, respiratory problems, and other health issues. Professional mold removal helps minimize the risk of these health problems by thoroughly eliminating mold and ensuring a clean and healthy living space.
Protecting Property Structural Integrity
Moreover, mold removal services can help protect the structural integrity of a building. Mold can gradually eat away at building materials, such as wood and drywall, causing them to weaken and deteriorate. By promptly addressing mold growth, professionals can prevent further damage and save homeowners from costly repairs in the long run.
Mold Removal | Emergency Service Available
Services:
————————–
Mold Removal
Water Damage Inspection
Water Removal
Fire Damage Inspection
Fire Damage Restoration
Mold Inspection
Emergency Service
FREE Inspection
FREE estimate
Highly Trained Professionals