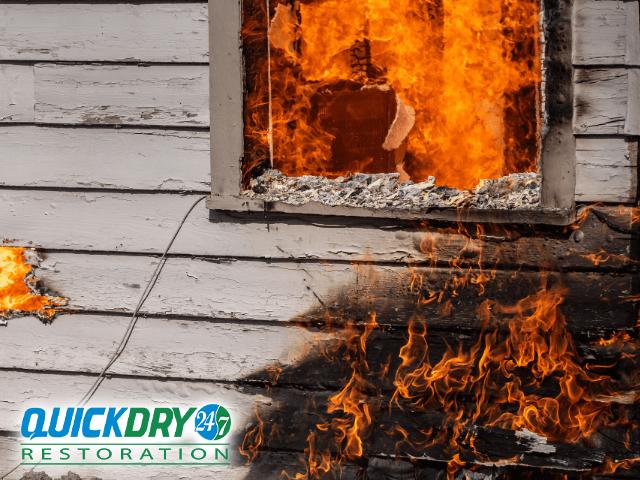 Fire Damage Restoration | Quick Dry 24/7 Restoration, a local company, provides expert property restoration services such as fire damage restoration and more. Contact us for a free estimate.
Fire Damage Restoration | Professional Restoration Services
Experiencing a fire in your home or business can be a devastating experience. In addition to the immediate danger and damage caused by the flames, the aftermath can be overwhelming and difficult to navigate. However, with the right guidance and expertise, it is possible to minimize damage and maximize recovery through fire damage restoration. Here are some tips for homeowners and business owners to keep in mind:
Safety first
The first priority after a fire is ensuring the safety of yourself and others. Make sure to evacuate the building and contact emergency services as soon as possible.
Contact a professional restoration company
Expert restoration requires specialized knowledge and equipment. Contacting a professional restoration company as soon as possible can help minimize damage and increase the likelihood of a successful restoration.
Document damage
Documenting the damage with photos and videos can help with insurance claims and can also provide a record of the extent of the damage.
Prevent further damage
It is important to take steps to prevent further damage, such as covering openings in the roof or walls and boarding up windows and doors.
Don't discard damaged items
It may be tempting to discard damaged items, but they can be valuable for insurance claims and restoration efforts. Leave them in place until a professional can assess the damage.
Understand insurance coverage
Review your insurance policy to understand what is covered and what is not. Work with your insurance company and restoration company to ensure a smooth and timely claims process.
Be patient during the fire damage restoration
The restoration can be a lengthy process, but it is important to be patient and trust the professionals to do their job thoroughly.
In conclusion, navigating fire damage restoration can be a daunting task, but by following these tips, homeowners and business owners can minimize damage and maximize recovery. By prioritizing safety, contacting a professional restoration company, documenting damage, preventing further damage, understanding insurance coverage, and being patient, the process can be less overwhelming and more successful.
Fire Damage Restoration | Emergency Service Available
Services:
————————–
Mold Inspection
Mold Removal
Water Damage Inspection
Water Removal
Fire Damage Inspection
Emergency Service
FREE Inspection
FREE estimate
Highly Trained Professionals